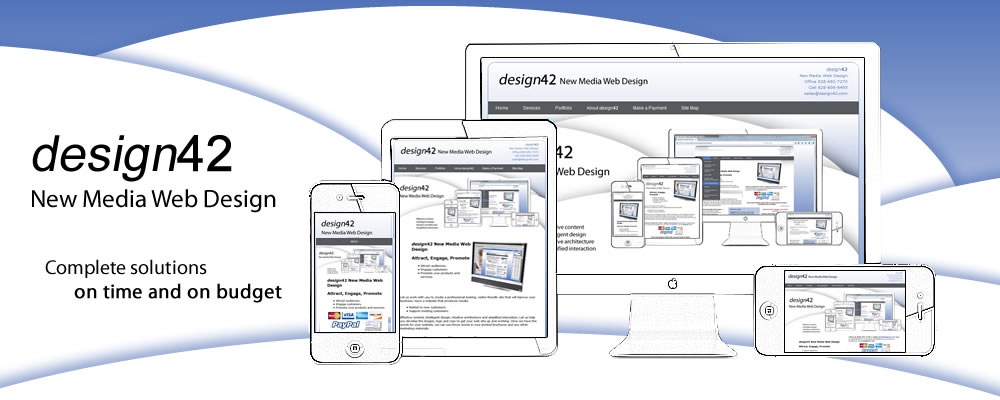 design42 New Media Web Design
Attract, Engage, Promote
Attract audiences.
Engage customers.
Promote your products and services.
Cross Platform Friendly Web Design
More and more people in every age range use a phone or tablet to browse the web. It is important that your site displays correctly on every screen. The text should be readable and the links clickable on a PC, phone or tablet, at any screen size. Google made changes to it's algorithm April 21, 2015, which significantly changed mobile search. If your site does not comply with Google's new mobile-friendly rules, they threaten to drop you from mobile search.
Check your site: www.google.com/webmasters/tools/mobile-friendly/
Let us work with you to create a professional-looking, visitor-friendly site that will improve your business. Have a website that produces results.
Market to new customers.
Support existing customers.
Effective content, intelligent design, intuitive architecture and simplified interaction. Let us help you develop the images, logo and copy to get your web site up and working. Then complete your marketing package with postcards, brochures and other materials.
Let us help you set up Facebook, Pinterest and other social media to work for your business.
Constant Contact, an effective e-mail marketing service is easy to use. We can set it up for you to manage yourself.
Call us at (828) 692-7270 or email sales@design42.com. Make an appointment for a personal consultation at your home or business or at the design42 office.

We Accept All Major Credit Cards, Personal Checks & PayPal
Installment Plans Available
design42 New Media Web Design is a full-service web design, content development and internet business consultant company located in Hendersonville, NC. We provide professional custom web design and internet business, advertising and marketing services. We are a complete website design provider. We are available to work with other website design agencies, advertising agencies, resellers and directly with you.
design42 offers complete web design solutions, from large web sites for the corporate endeavor down to the most economical "brochure" presence for small business. We have experience in all aspects of Web Design and eCommerce website development. We can provide the graphic design, copy writing and nearly any other internet services to complete your project on time and on budget...>
Would you like to design your website yourself?
design42 New Media Web Design can walk you through any difficulties you might run into. We can help with domain registration, FTP, photography, photo editing, copy writing or any other part of the project that you need help with or do not want to do. We can teach you how to accomplish each step yourself, so that you won't need help next time. Let design42 help you through your entire internet project...>
Call design42 New Media Web Design at (828) 692-7270 or email sales@design42.com now.